My apologies for not blogging more regularly. Motherhood took over life for the past week with two of three children sick with a virus, which did not leave much time for conferencing or reflection.
Today I caught up on a couple of presentations, and there are a couple of things I would like to think about further, and also to share:
From Mihaela Banek and Sonja Spiranek, concluding thoughts: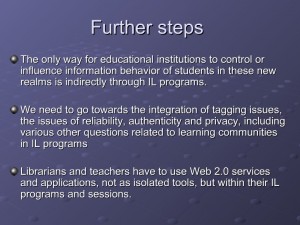 To me that means we have to jump in, embrace the possibilities, experiment, model, demonstrate, assimilate these tools until they are simply part of the fabric of what we do.
And an image used as part of the presentation:
(Released by Daniel F. Pigatto under a CC licence)
Now isn't that food for thought???
And to finish off on a tangent, have you ever wondered how anyone could map the web?