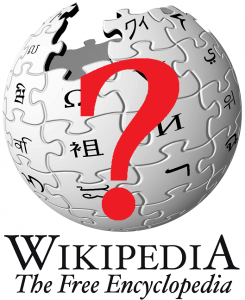 Friday afternoon, low energy, flicking through my inbox cleaning things up. Behold! The School Library Journal digest email – the Wikipedia-shaming line catches my eye.
Dr Joyce Valenza (all around legend in the teacher librarian world and lovely person to have dinner with at EduTech in Brisbane 2014) has written an article about student perceptions of Wikipedia. This has come out of research she is currently pursuing regarding "students' information choices" (see the article for details).
One of the things I found most fascinating in this article was the graph comparing helpfulness and "citability" against age of the student. Generally speaking these two qualities were inversely proportional, ie the more helpful Wikipedia was, the less likely students were to use it as a reference. The other key point for me was that as students moved higher up the educational ladder Wikipedia became more valuable.
The quotes from the older student participants make it clear that they understand the strengths of Wikipedia very well – it can be great introduction to complex topics, clearly structured, very current and with comprehensive reference lists linking to online sources. The barrier is established attitudes to Wikipedia as a source, which Dr Valenza characterises as a negative judgement of Wikipedia's brand, whereas a more useful approach would be consideration of the quality of each specific article based on authority, currency, relevance and references.
I am left with some questions – what would my colleagues think of students using Wikipedia? Should they suggest it as an introduction to new topics and a source of references? Should it be used as a lesson in determining reliability of content? In fact it occurs to me that it is probably easier to find references for information in Wikipedia than in many other online sources! Should it be equated with traditional encyclopedias – again giving credibility to the information if adequate cross-checking is evident?
A very interesting article, I am glad I came across it and may well see what reactions I can stir up amongst my teaching colleagues by sharing the findings!